Post 376 is located in the Village of Oxford on 17 South Washington Avenue. Parking on Washington Avenue is available, but it's a residential area. Post 376 has a full parking lot on the Rte 12 side of the building. FYI- Did you know that NYS Rte 12 is also known as Canal Street? It was once part of the man made Chenango Canal!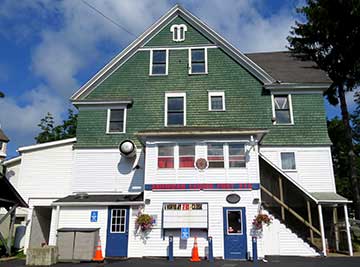 Coming from the South/Binghamton, NY, drive 40 minutes (without traffic; 32.4 miles) via NY-12 N. Alternate Routes: NY-369, it's about 45 minutes (34.5 miles).
From I-81 North, NY-206 East (to Greene, NY) and NY-12 North, it's about 49 minutes away (42.2 miles).
Coming from the North/Poolville, NY, drive 39 minutes (26.9 miles) south on NYS Rte 12. Stay on Rte 12 just past Canal Street Hardware on the left you'll see the Legion on the right. This is the back side of the Legion where the big parking lot is. There is residential parking on the Washington Avenue side.
Alternate Routes: via E River Road and NY-12 South it's 38 minutes (27.1 miles).